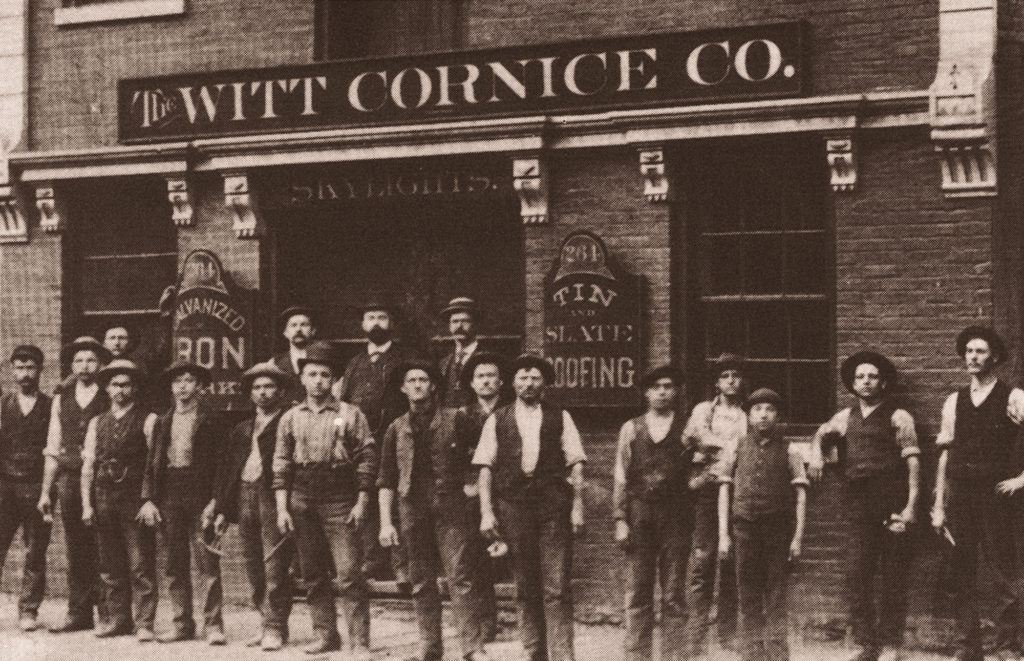 In 1887, The Witt Cornice Tin/Slate Roofing Company was founded by George C. Witt near the banks of the Ohio River in Cincinnati, Ohio. In 1899, George Witt patented the Witt corrugated ashcan, shortened the company name to The Witt Cornice Company, and manufactured his first can. He also expanded the plant to hot-dip galvanize these cans and began providing galvanized coatings for products produced by other companies. In 1906, George decided to put more capital into the company and convert the entire company to the manufacture of cans.  A year later, his son, J.W. Witt joined the business with him.
In 1940 Witt introduced and patented its push top can lid.  In 1950, J.W. Witt turned over the reins to his son, Jim.  Acquisitions took place in the 1960s and Witt acquired a galvanizing business as well as the Dan-Dee Basket division of Erie Art Metal.  The 1960s brought decorator wastebaskets for offices as well as the versatile Push Top Receptacles.  In 1962, the company celebrated its 75th anniversary by moving to a 20,000 square foot expansion to its Steel Place headquarters. 
Witt Industries' product line changed to meet customers' needs while the company's dedication to quality and service remained steadfast and constant.  In 1971, Bob Wydman, Mary Witt's husband and J.W.'s son-in-law, took the role of Witt Chairman. In 1984, Bob Wydman passed away unexpectedly.  Marcy Wydman, Mary, and Bob's daughter took over the company and remained in control until the business was sold to The Armor Metal Group in 2007. The Armor Metal Group, Inc. moved the business to its more than 300,000 square foot ISO 9001:2008 registered facility in Mason, OH. 
Witt Industries continues to investigate potential markets and strives to expand its share in existing marketplaces through the same commitment to quality and service that it has shown since its inception in 1887.